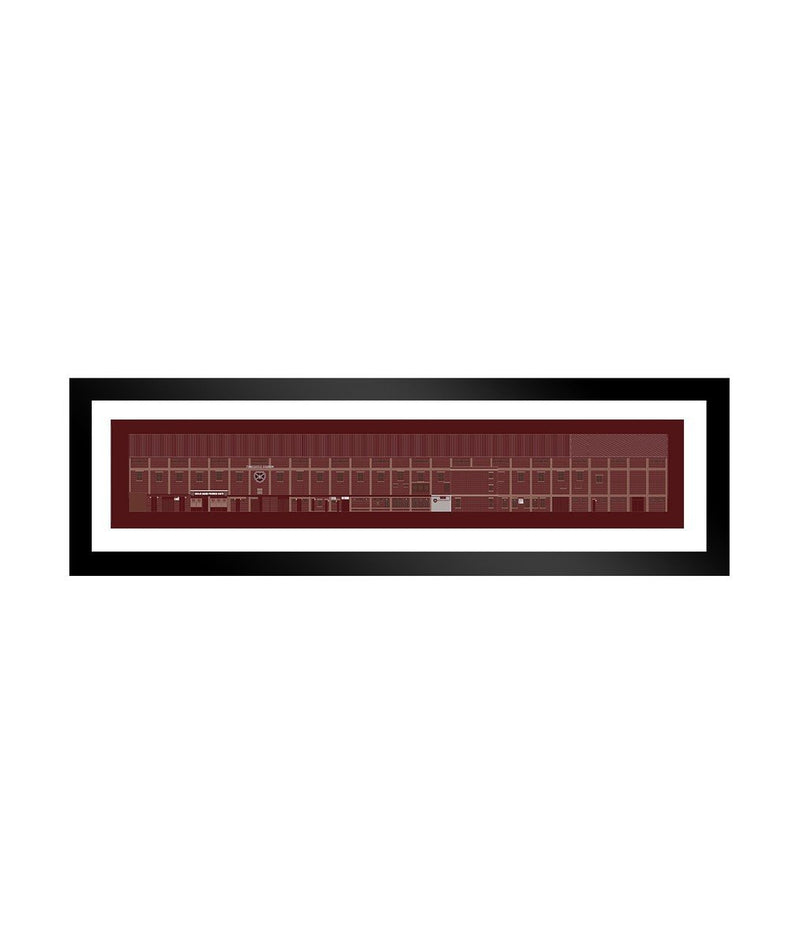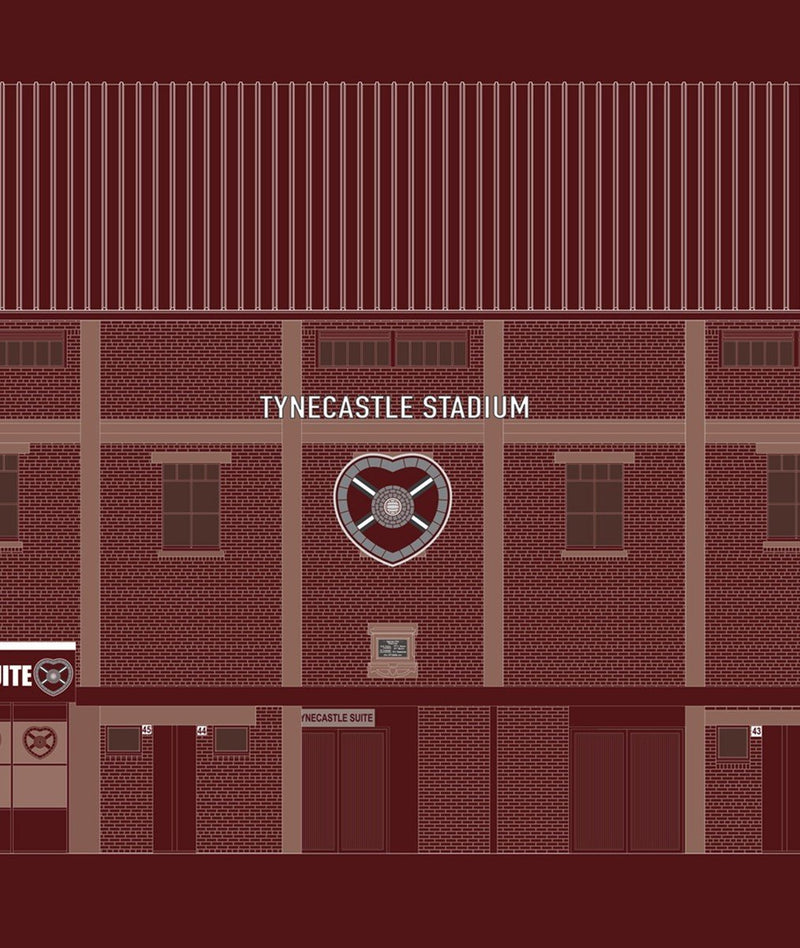 Archibald Leitch Stand Large Framed Print by Peter Burt
Produced by local artist Peter Burt, this print depicts an artistic adaption of a traditional architectural elevation. Stylised for commemorative print, it displays white line work against a background of maroon and features individual brick and signage detail. The print will hopefully serve as a way to mark an historic moment in the history of Heart of Midlothian Football Club and hold sentimental value for those who harbor fond memories of the long-serving stand.
Size 110cm x 33cm
As a lifelong Hearts fan, and a student of Architecture, Peter researched the history of the stand that served generations of Tynecastle crowds. He noted that copies of Leitch's original drawings accompanied many of the published case studies of his stadium, although this was not the case for the Main Stand at Tynecastle. In line with this, he made a request for information to the Edinburgh City Archives, their response revealed that no plans were available for the site of Tynecastle. In the interest of preserving an accurate architectural record of the familiar façade, he decided to document it as it appeared shortly before demolition began.
Size Guide
| | | | |
| --- | --- | --- | --- |
| Youth | | | |
| Size | Age | Inches | Cms |
| YS | 7/8 | 26/27 | 67/69 |
| YM | 9/10 | 28/29 | 72/74 |
| YL | 11/12 | 30/31 | 77/79 |
| YXL | 13 | 32/33 | 82/84 |
| | | | |
| --- | --- | --- | --- |
| Ladies |   |   |   |
| Size | Size | Inches | Cms |
| XS | 8 | 30 | 76 |
| S | 10 | 32 | 81 |
| M | 12 | 34 | 86.5 |
| L | 14 | 36 | 91.5 |
| XL | 16 | 38 | 96.5 |
| XXL | 18 | 40 | 101.1 |
| | | |
| --- | --- | --- |
| Gents | | |
| Size | Inches | Cms |
| S | 35/37 | 89/94 |
| M | 38/40 | 97/102 |
| L | 41/43 | 104/109 |
| XL | 44/46 | 112/117 |
| XXL | 47/49 | 119/124 |
| 3XL | 50/52 | 127/132 |
| 4XL | 53/55 | 135/140 |