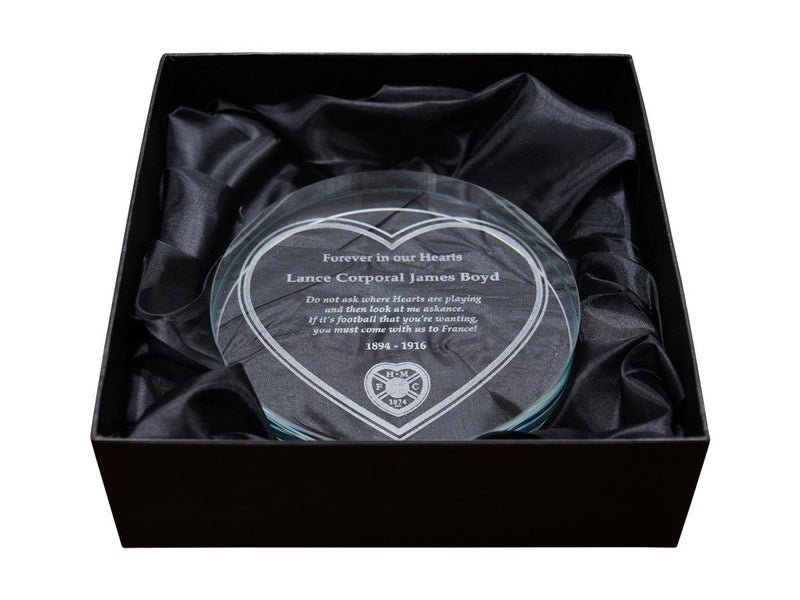 Etched Glass Replica Memorial Plaque - Can only be purchased if you have a plaque in the memorial garden
ETCHED GLASS REPLICA MEMORIAL PLAQUE
PLEASE NOTE, PLAQUES ARE TAKING LONGER THAN USUAL, DUE TO CURRENT GOVERNMNET RESTRICTIONS, PLEASE ALLOW UP TO 12 WEEKS FOR DELIVERY
We are pleased to bring you the opportunity to purchase a cut glass, etched replica of your Memorial Garden Plaque to keep at home.
Available to those available who have purchased a steel plaque for the garden, the replica is a beautiful cut glass ornament, engraved with a copy of the text from your Memorial Plaque. The number of replica glass hearts you can purchase is unlimited.
The glass replica, which comes in a black presentation box, is designed to be a free standing ornament, at 12cm by 12cm. The cost is £45 for the first order, and then £38 per plaque for any additional.
You can choose to have your replica heart posted to you or you can pick it up at the Club Store on delivery.
Please note that orders are submitted monthly to the suppliers for individual personalisation, so can take between 4-6 weeks to complete.
Please populate as much information as you can remember from your original plaque. We will ensure the details are correct from original plaque order.
Size Guide
| | | | |
| --- | --- | --- | --- |
| Youth | | | |
| Size | Age | Inches | Cms |
| YS | 7/8 | 26/27 | 67/69 |
| YM | 9/10 | 28/29 | 72/74 |
| YL | 11/12 | 30/31 | 77/79 |
| YXL | 13 | 32/33 | 82/84 |
| | | | |
| --- | --- | --- | --- |
| Ladies |   |   |   |
| Size | Size | Inches | Cms |
| XS | 8 | 30 | 76 |
| S | 10 | 32 | 81 |
| M | 12 | 34 | 86.5 |
| L | 14 | 36 | 91.5 |
| XL | 16 | 38 | 96.5 |
| XXL | 18 | 40 | 101.1 |
| | | |
| --- | --- | --- |
| Gents | | |
| Size | Inches | Cms |
| S | 35/37 | 89/94 |
| M | 38/40 | 97/102 |
| L | 41/43 | 104/109 |
| XL | 44/46 | 112/117 |
| XXL | 47/49 | 119/124 |
| 3XL | 50/52 | 127/132 |
| 4XL | 53/55 | 135/140 |